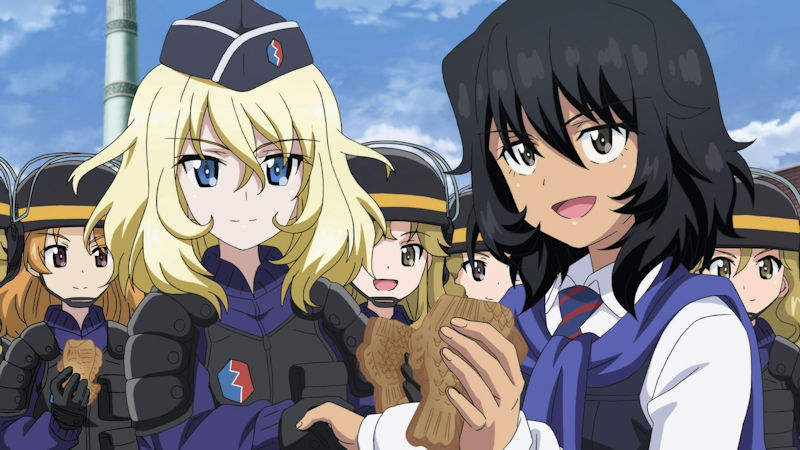 ---
Girls und Panzer Das Finale
Coming this March & April, we're pleased to present the Girls und Panzer films, Das Finale parts 1 and 2, as well as the OVA Taiyaki War! The series has been one of our most popular licenses, and we're pleased to see it go out with a huge bang!
Girls und Panzer das Finale Part 1 contains the first part of a three part anime movie series directed by Tsutomu Mizushima.
The tank-crazy girls of Oorai Academy are shell-shocked when Momo's preoccupation with locating new tanks for the upcoming Caterpillar Tread Cup causes her to fail her college entrance exams! However, the diabolical minds of Miho and the Oorai teams concoct an uber-crafty battle plan to give Momo a second chance at her exams. The catch? They'll have to promote Momo to the position of overall commander while Miho steps down to vice commander! With Oorai's greatest challenge coming up, it's a terrible time to break in a new general, and that's only the first bombshell in a new series of barrages. Can duplicitous rivals, ridiculous contests and a maid-mad gang of juvenile delinquents stop Oorai's mechanized path to victory? Gears grind, bombs burst, and all obstacles are plowed under as the mayhem ensues!
Girls und Panzer das Finale Part 2 contains the second part of a three part anime movie series directed by Tsutomu Mizushima plus the OVA Taiyaki War!
After falling for BC Freedom High's clever deception, the Oarai Girl's High tank-maidens find themselves faced with an entirely different battlefront than expected. However, Yukari suspects that any bluff that could have been carried out so easily by so many people must have some basis in fact. So, as the other school teams prepare for combat across the competition, Oarai digs down with a plan to undermine the groundwork beneath their opposition.
Too much digging is dangerous, though, and the girls are next troubled to discover that the foundations of Momo's personal life are equally unstable. With the victor of the Koala Forest High vs. Chi-Ha-Tan Academy battle as their next opponent, it's a war on all fronts! Plus the events preceding the BC Freedom battle are revealed!
You can pre-order here:

Girls und Panzer Das Finale Part 1